Details (e.g., entry forms and results) of running races (e.g., 5K, 10K, 10M, half marathon), both road races and multi-terrain, near North East England: Northumberland, Tyne and Wear, County Durham, Yorkshire, Cumbria, ... . Generated: Tue 27 Sep at 20:03:29 BST
Make a note of www.northeastraces.co.uk and go there if you can't get to this website.
Percy Pud 10K will OPEN and FILL on SUNDAY. This year's Percy Pud 10K will be on Sun Dec 4th at 0930. "Online entry will open at www.entryhub.co.uk on SUNDAY (Oct 2nd) at 1700." Last year, entries opened on Mon Oct 5th 2015 at 1900. Shortly afterwards, the organiser's web page said "the race is now FULL with 2200 places selling in just over 2 hours." "The race is set in the picturesque Loxley Valley on the north west outskirts of Sheffield." "The route takes you alongside the Damflask Reservoir to The Plough at Low Bradford returning by the same route." "The course is a slightly undulating, out and back - good for PBs."
Ho ho ho!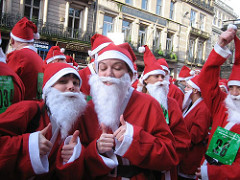 There is a list of Santa Runs at www.santadash.co.uk. I've decided not to include on this website those near North East England that are listed at www.santadash.co.uk. So to find a Santa Run near you, go to www.santadash.co.uk. This website only has Santa Runs that are near North East England that are not listed on www.santadash.co.uk. This photo of a santa run is by 'and in 9th place...'.


Latest postal/online entry forms. Washington Trail 10K, Ravenscar Coastal Half Marathon and 10K, The Travellers 6, Druridge Bay 10K, North Tyneside 10K, Run Northumberland Cragside 10K, Saltwell 10K, Tees Trail Winter 5K Race 1 - Preston Park, Norman Woodcock Memorial, Heart of Eden Half Marathon.
Recent results. Knaresborough Crag Rat Run, Snape 10K and 5K fun run, Prudhoe Miners Run 10K, Sutton Park 10K, Redcar Half Marathon and 5K, Haltwhistle Half Marathon, Stoneybeck 10K, Stainland Trail 10K, Silkstone Shuffle Race 3, College Canter, Dumfries Half Marathon, Pieces of 8 Penshaw Half Marathon, Bawtry Forest Trail Run, Filey 10K Beach Race
Missing results. Please email me if you know where there's a web page giving the results for: Global Energy Race - Sheffield, The Cumberland Ale 10, Shepley 10K, Helping Hearts Family 5K - Newcastle.
Keep up-to-date. Follow @northeastraces on twitter as it's sent a tweet whenever there's a new entry form or a new set of results.
About this website. Every 15 minutes, the contents of www.northeastraces.com is copied to www.northeastraces.co.uk. So you can use either. One is in the USA: the other is in Amsterdam. If you have configured preferences on this website, you'll need to do that again on the other website. Details about how to use this website (including its use of cookies) can be obtained by clicking this About link. If you find information on these pages that is wrong or missing, please email me. Also email me if you want to send praise!
Other regional lists. For races near Oxfordshire, visit www.oxonraces.com. For Sussex, visit www.sussexraces.co.uk.
---