Details (e.g., entry forms and results) of running races (e.g., 5K, 10K, 10M, half marathon), both road races and multi-terrain, near North East England: Northumberland, Tyne and Wear, County Durham, Yorkshire, Cumbria, ... . Generated: Wed 18 Jan at 12:40:27 GMT
Make a note of www.northeastraces.co.uk and go there if you can't get to this website.
Return of the Burn Valley Half from Masham.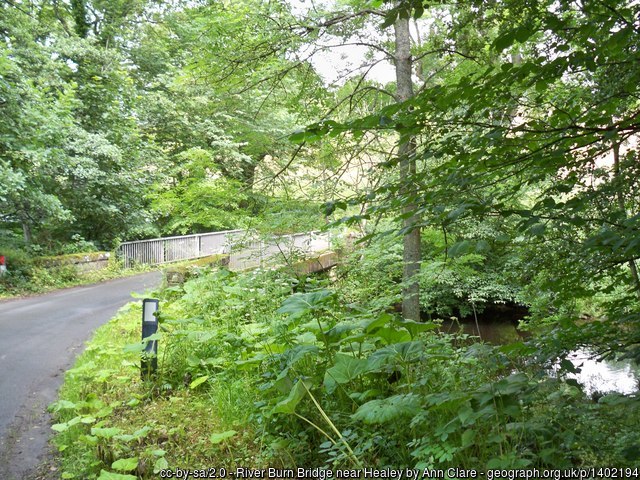 2017 will see the return of the Burn Valley Half Marathon. Last held in 2012, it was a favourite of mine when I was running in the North East. "The course is run entirely on minor roads. Starting in Marsham's market square and taking you through the grounds of Swinton Castle the course then follows the picturesque Burn Valley. It rises to the Leeds Pals war memorial near the top of Breary Banks. From there it drops down past Spout House Farm and returns via Colsterdale and the villages of Healey and Fearby. Turning right at Fearby Cross there is a fast downhill section before climbing back to Swinton Castle, just 1.5 miles from the finish at Masham School." Here's a link to a course map. One of the outstanding bits is the 95 metre climb from Leighton Bridge (at 5.5M) to the War Memorial (at 6.5M), and then, when exhausted, you throw yourself down a hill on a rough track to Spout House Farm. This photo of the bridge over the River Burn at about 3.6M is by Ann Clare.
Blaydon Race opens on Feb15th/16th. As usual the Blaydon Race will take place on June 9th which this year falls on a Friday. This web page says that entries for the 2017 race will open on Wed Feb 15th at 1900 for affiliated runners and on Thu Feb 16th at 1900 for all runners. Entries for the 2016 race opened for affiliated runners on Web Feb 3rd 2016 at 1900 and the allocation of about 1800 places were taken in about 2 hours and entries for everyone opened on Thu Feb 4th 2016 at 1900 with 2400 places being taken in about an hour. Here's a link to other details about the Blaydon Race.
Latest postal/online entry forms. FlaminGO! 10K, Neurocare Head Start 10K and 5K, Les Allcorn 10K, Ripon 10M, Round The Houses, Ilkley Trail Race, Round Sheffield Run, Ben Campbell 5K and 10K, Dalton Dash 10K, Red Kite Trail Race, Burn Valley Half Marathon, Tees Barrage 10K.
Recent results. Durham Cathedral Cross Country Relays, Resolution 10K/5K (Carlisle), Brass Monkey Half Marathon, Stuart Pailor Memorial Old Monks Trail Race, South Shields 5K Winter Trail Series Race 4, Temple Newsam 10 - The TNT, York New Year Relay, New Years Day Resolution Run, Morpeth 11K, Oxspring Hunshelf Ambles Revenge
Missing results. Please email me if you know where there's a web page giving the results for: Stainland Boxing Day Fun Run.
Keep up-to-date. Follow @northeastraces on twitter as it's sent a tweet whenever there's a new entry form or a new set of results.
About this website. When necessary, the contents of www.northeastraces.com is copied to www.northeastraces.co.uk. So you can use either. One is in the USA: the other is in Amsterdam. If you have configured preferences on this website, you'll need to do that again on the other website. Details about how to use this website (including its use of cookies) can be obtained by clicking this About link. If you find information on these pages that is wrong or missing, please email me. Also email me if you want to send praise!
Other regional lists. For races near Oxfordshire, visit www.oxonraces.com. For Sussex, visit www.sussexraces.co.uk.
---